Welcoming New Hires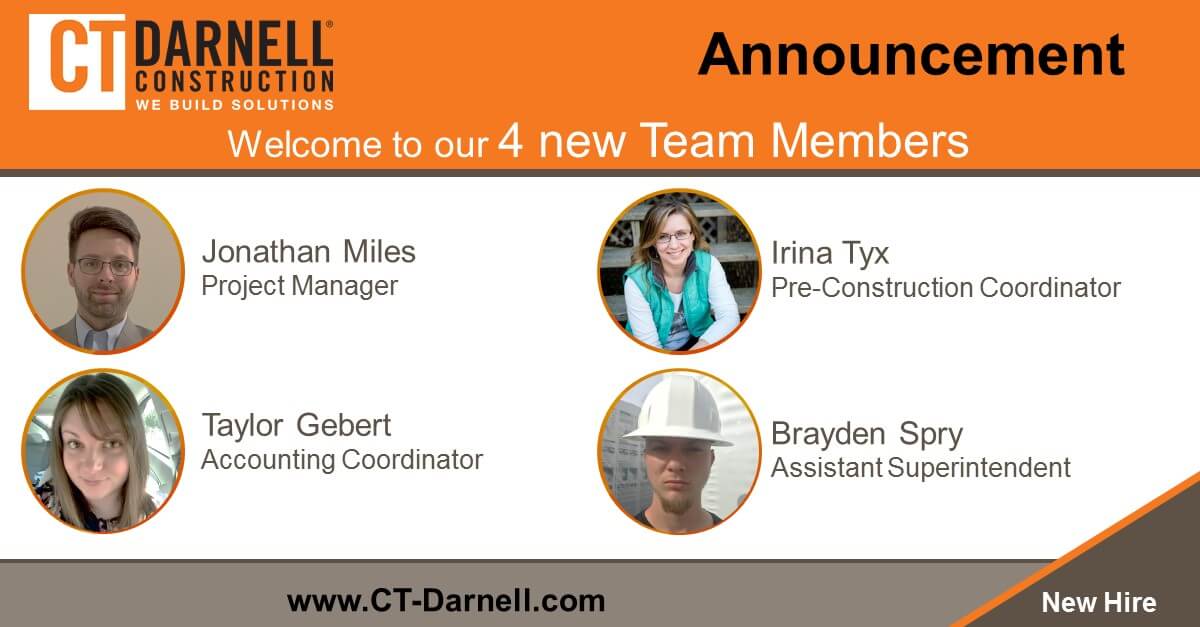 Happy 2019! We already have some great news to announce. Our team has been working hard winning numerous projects in the past few months.
Please join us in welcoming the following employees to CT Darnell Construction:
Jonathan Miles
Project Manager
Jonathan is our new Project Manager for our industrial, self-storage, and manufacturing division. He graduated from Auburn University with a Bachelor of Science in Building Construction. Jonathan has been in the construction industry for 12 years, managing multiple industrial and self-storage projects.
Irina Tyx
Pre-Construction Coordinator
Irina is our new Pre-Construction Coordinator. She has a Bachelor of science in electrical engineering from Southern Polytechnic State University. She has worked in industrial, healthcare, and commercial facilities. Her electrical degree experience will make her a great asset to our pre-construction team.
Taylor Gebert
Accounting Coordinator
Taylor will be assisting our accounting department with our growing construction projects. She is graduate of Northwest Florida State College with a Bachelor of Applied Science in Project Management and from the University of West Florida in Professional Accountancy.
Brayden Spry
Assistant Superintendent
Brayden grew up with his family in the construction industry and has already made his mark by working on some major project in Atlanta including NCR building at Atlantic Station, the new Sandy Spring Performing Art Center, and on the foundation for the new State Farm Headquarters in Dunwoody.