KNOE Studio Renovation
Award-Winning KNOE-TV Celebrates 65 Years on the Air with Major Renovation, New Tech
Two thousand eighteen marked the 65th anniversary of acclaimed Louisiana television station KNOE-TV. For wedding anniversaries, the milestone is commemorated with blue sapphires. For KNOE-TV, it was a completely upgraded station, including a major building renovation done by CT Darnell Construction, as well as a new control room and production equipment.
When KNOE launched in 1953, it had the distinction of being one of the first television stations in Louisiana and of owning the most powerful broadcast tower in the South. Since then, it has become the dominant news station in the Ark-La-Miss area and has won numerous journalism awards at the state, regional, and national levels. In addition to news, the station offers entertainment programming from ABC, CBS, and CW networks.
To ensure KNOE is positioned to serve its viewers well into the future, owner Gray Television, who acquired the station in 2014, invested nearly $2 million in state-of-the-art technology and a roughly equal amount in building renovation. CT Darnell drove every aspect of the renovation, from architecture and engineering to qualifying subcontractors and working with the City of Monroe for design and construction approvals.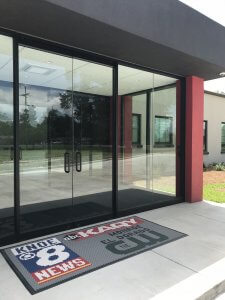 The Show Must Go On
KNOE continued to broadcast and produce news programming throughout construction, which included a brand-new newsroom; new offices and meeting and break rooms; new mechanical systems and roofing; and a new entrance drive and landscaping. In a nod to the station's long and distinguished history, the lobby was remodeled to preserve the station's original – and, now, iconic – signage.
To minimize disruption to the station's daily operations, CT Darnell phased the project so that some areas of the 10,000 square-foot building could be used before starting work in other areas. Crews routinely paused their work so as not to interfere with live broadcasts. CT Darnell's Vice President, Jennifer Henderson, likened the challenge of moving the project forward while the station continued full operations to "changing a tire on a moving car."
It's safe to say CT Darnell rose to the challenge. Gray Television, who operates more than 91 TV stations, has also engaged CT Darnell as the general contractor to build its new flagship station, WRDW, in Augusta, Georgia.